The Golden Globes
came and went, and the fashion was phenomenal! I just like to watch the red carpet right before the show. Don't care much for the actual show but seeing all of the gowns is a must.
I couldn't help but jot down my favorite and not so favorite dresses for the night and then couldn't wait to share with you. So here is my official best and worst for the Golden Globes.
Just a side note, I haven't watched any Fashion Police shows or fashion wrap ups on this event (yet) so that my opinions wouldn't be swayed by the professionals. I really take this job super serious! :-) Also, with cosmetology in my blood I couldn't help but comment on the hair too. It's a sickness.
****** WORST******
Without being too critical (I don't want to be mean) we will start with the negative and get it out of the way. :-)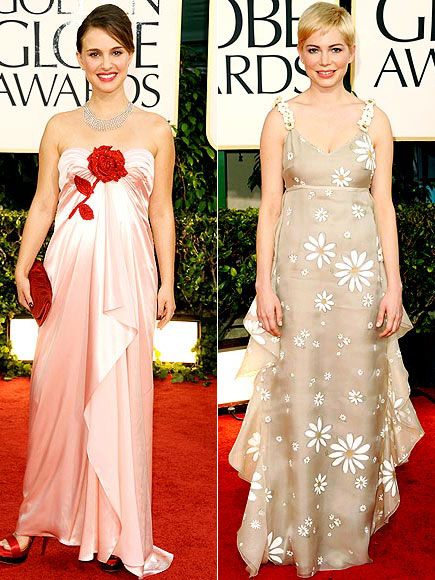 It's a tie for me between these two on worst dresses. Yes there were others far worse than these two, but these girls know better and I'm really shocked to see them like this!
Natalie's pink dress could have been sweet, but I'm not sure what's going on with the red plastic rose on her chest and the matchy-matchy red shoes and red clutch are not helping. Her hair in my opinion is not at all right. The style gives Miss Portman a slightly deformed head. This girl is one of the prettiest girls in Hollywood, so even on her worst day her beauty still shines through.
As for Michelle, There's nothing I can do to this dress to make it work. It does nothing for her shape and the flowers are just bad, but I love her super short hair cut and color. She pulls it off nicely.
Here they are in previous years....see the difference:
Much Better
This is magic! My favorite Michelle Williams red carpet moment.
I Feel like last year sometime, Christina was really coming into a classy beautiful style. But lately it looks like she is back to the Bleach blonde overprocessed hair, too much makeup and clothes that lack class. But on a positive note the girl can sing.
Here is Christina at the Golden Globes last year looking softer and beautiful.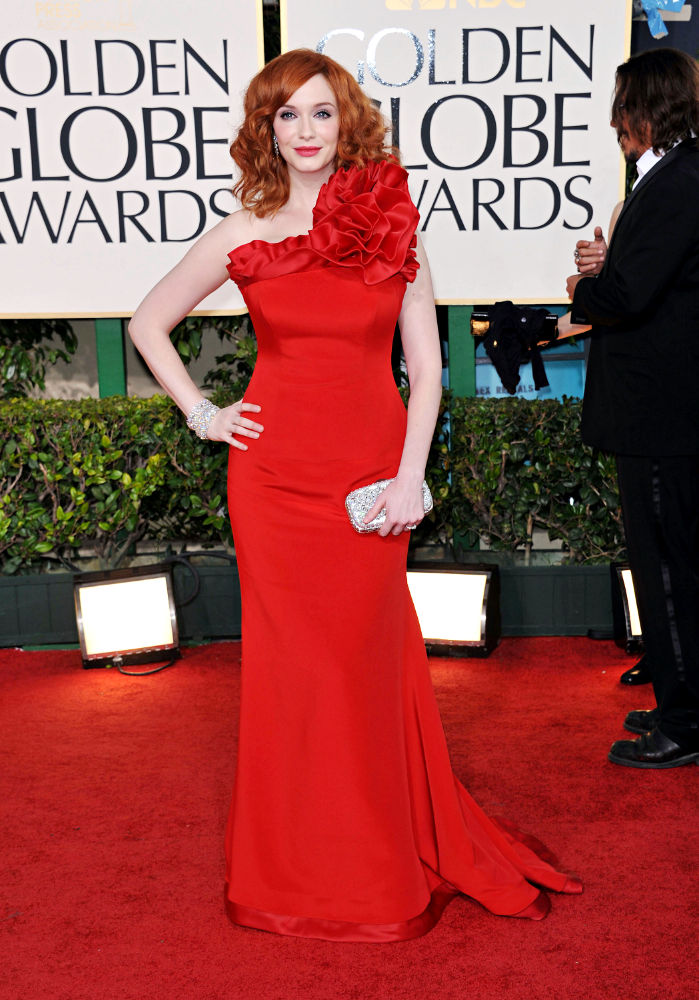 I do love this dress and I think Christina Hendricks and her red hair are beautiful, but I didn't like this look. The red carpet, the red dress, the red hair and the red lips are all too much. I love the ruffles, but they are competing with her hair. If her hair were pulled back I could like this look.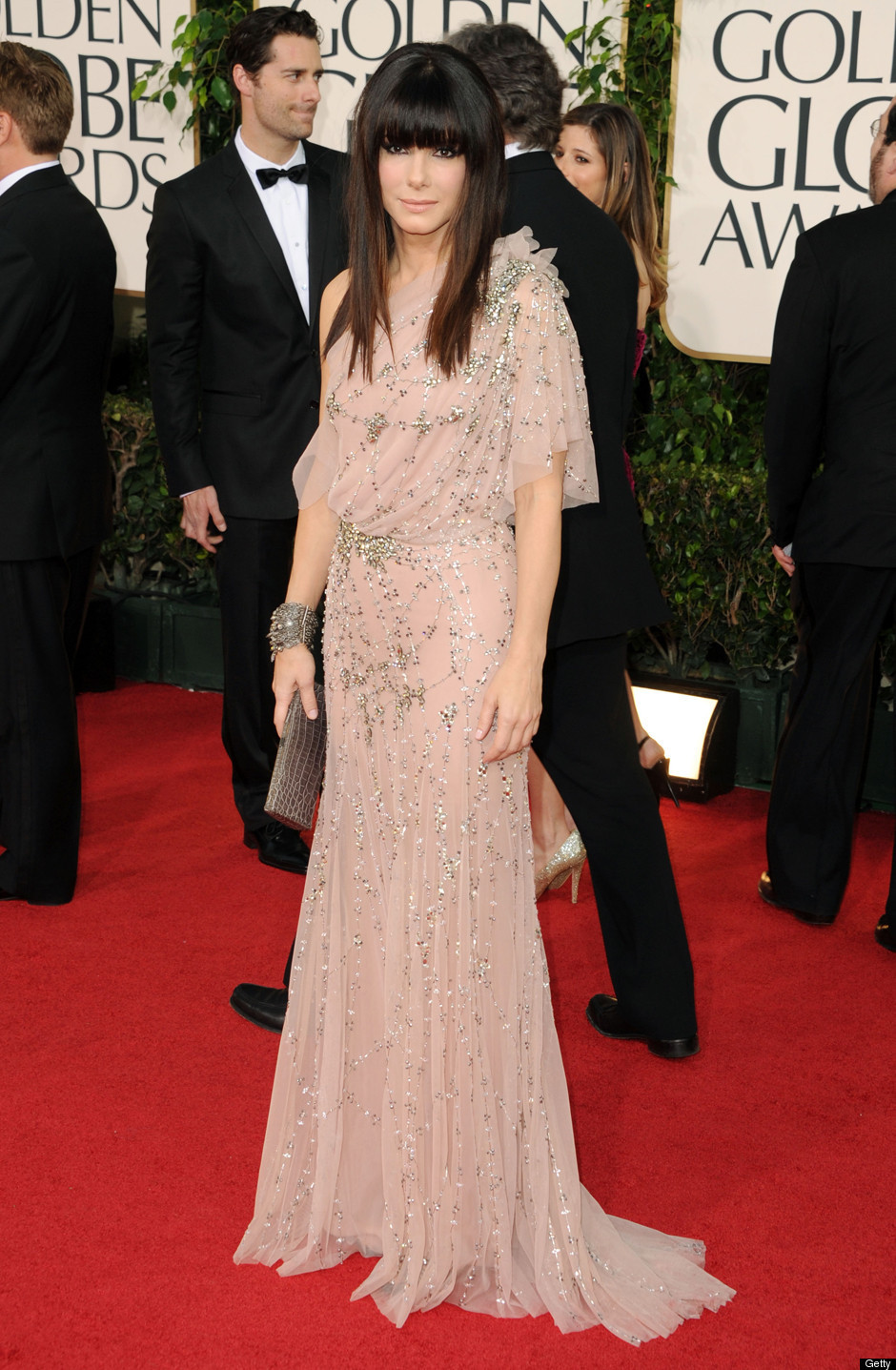 Oh Sandy, I love your dress to death but couldn't focus on it because of your new hair style.
Sandra is beautiful but her hair does not work. There is too much teasing going on top and her bangs are too heavy. It's giving her a helmet head like look.
This is the Sandy we know and love.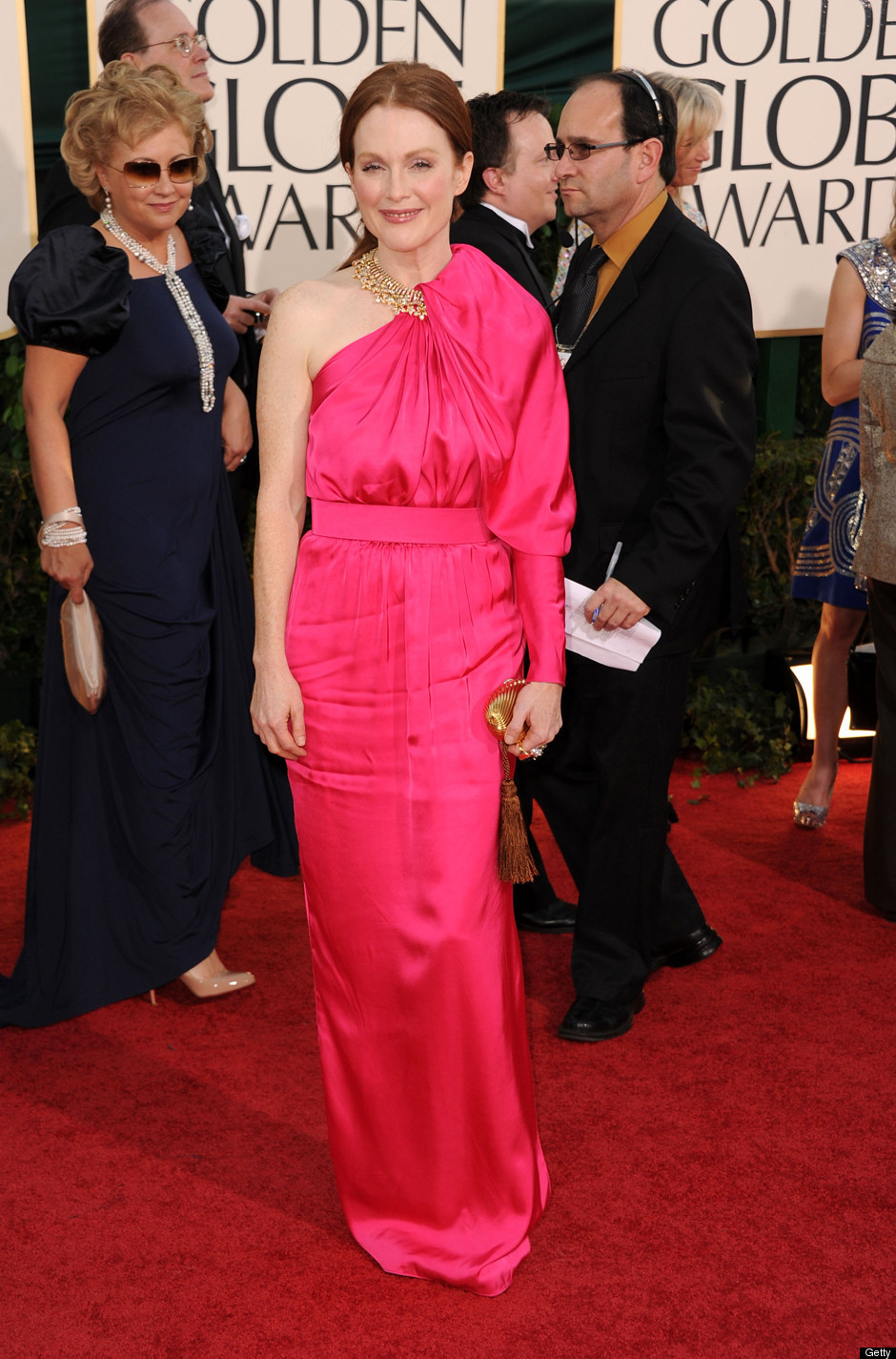 This dress is all wrong. Wrong color, wrong material, wrong style. It looks cheap.
This color is gorge on her, and her hair is beautiful.
I love Heidi, but I'm unsure as to what she is doing lately. This dress would have been beautiful for a beachy, daytime event but not to an awards show. This girl knows better. Shame on you....... Still so beautiful.
Here is Heidi looking perfect for a red carpet event. Loved this look.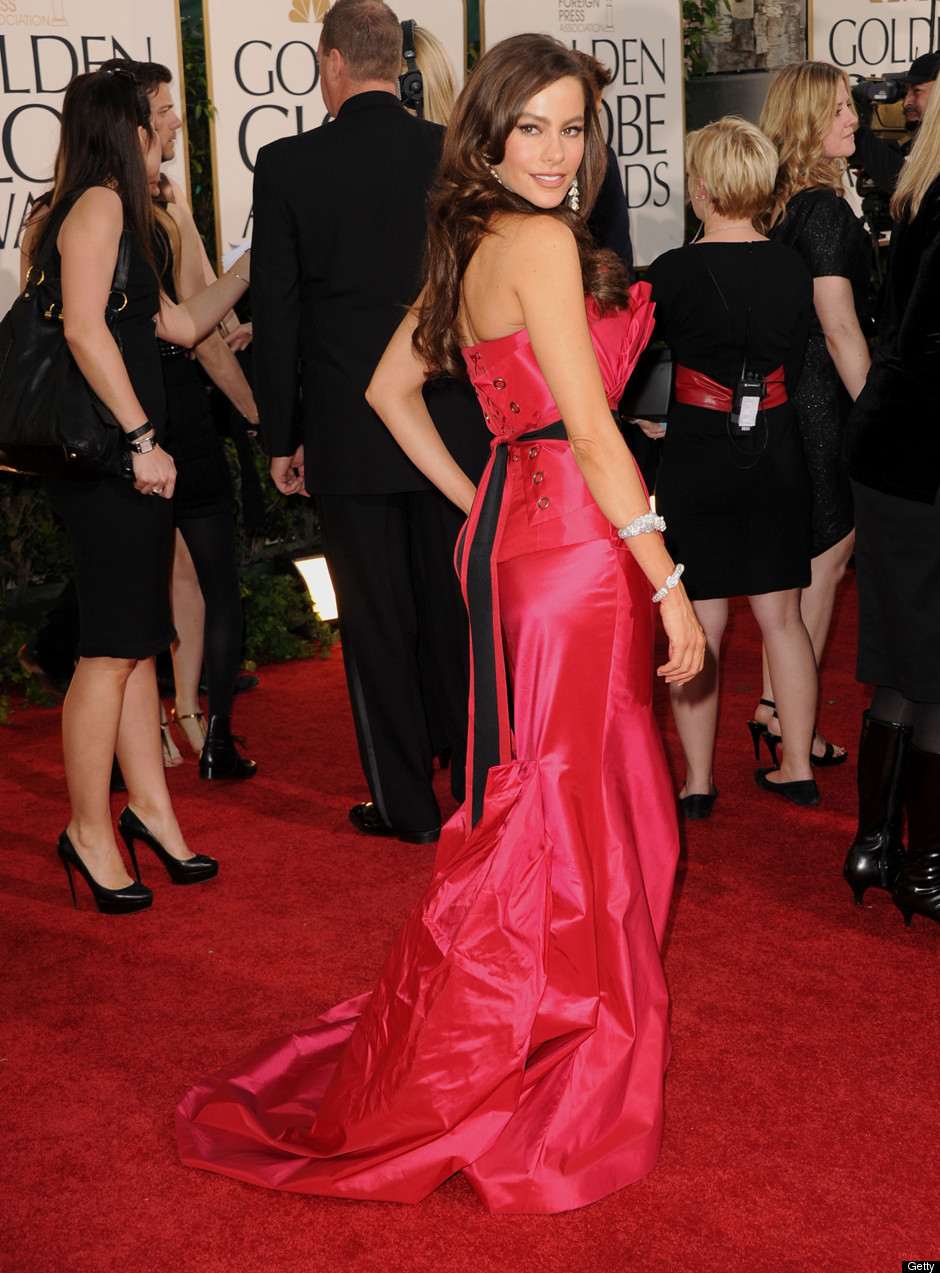 Sofia is so beautiful and funny, but I didn't love the look. I would have liked to see her in something less obvious. Red, tight, lace up corset and although her hair looks beautiful down and curled, it is just adding to the whole look. I would love to see her in a more fashion forward dress and her hair pulled back. Her face is so pretty I would like it to be more of a highlite.
Really not much to say about this! :-)
Now this dress is beautiful I will say, but it's a little PROMY for me. I can see this style of dress at senior proms everywhere. It makes her look a little young. I would do a different style with her hair as well. It doesn't quite work.
These two dresses are the right way to wear this style. They aren't as poofy and it gives it a more grown up feel.
I don't like this dress. It's inaproppriate for a red carpet event. It is lacking sophistication.
This is much better for Halee.
Really?????
*****BEST*****
This is my FAVORITE, BEST DRESSED of the night. I love the color, I love the draping, I love the fit, and I love the strong shoulders. The only thing I would change is her hair. I don't like it and haven't liked it lately. I think it's the bangs.
Helen Mirem is stunning, classy and beautiful. I want to look like her when I am old. Loved this dress.
Loved this Dress. Perfect Fit, Length and color. Its just elegant.
AMAZING!!!!!
Loved This dress. Anne Hathaway really took a more fashion forward approach to her red carpet gown. She usually always looks amazing on the red carpet, but usually wears something more classy. I love that she went for it and did a strong shoulder.
PURE ELEGANCE! Jennifer Lopez was beautiful. I love the simple dress with the elegant detailed cape. When was the last time you saw someone wear a cape? Only change I would make is a hair change. It looks fine in the picture but from other angles it was an out of place pony-tale. Other than that...She looks stunning!
This dress will probably have the most controversy. You will either love it or hate it. I happen to love it. It was a statement to make on the Red Carpet without being big and flashy. Yes, it's a little grandma-ish....but I can't help but love it. The bunchy puffy sleeves are my FAVE! Maybe if the dress was done in a better color I think it would have made more of a statemment.
This is Simple done right! A Very simple dress in the perfect peach color. Light makeup, hair slicked back and minimal jewelry. I love this look!!!!
This is one of my FAVES. The flutter sleeves are so elegant. The color is perfection. My only teeny tiny dislike, is her hair. Its all wrong. I tried to find more images of her hair to show, but couldn't find. But trust me....all wrong.
This Dress is so amazing in so many ways. The whole look is amazing. The pale pink color, the ruffles, the cocktail ring in the perfect accent color (turquoise), and the hair. I love it!
Love The dress, but this dress would NOT be so great if it was done in a more basic color. The color mustard is what makes this dress so A-MAZ-ING!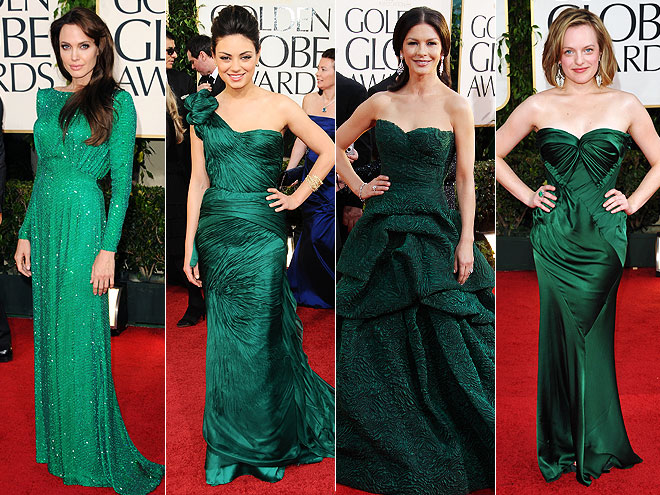 This emerald green was the huge color trend of the night.
Speaking of color trends.......Here is the color of the Year!
Have you all heard about the color of the year yet? Every year Pantone anounces a color that is the trend for the year as well as some other colors we will be seeing a lot of. Remember how huge turquoise was last year? That was the Pantone color for 2010.
This years color of the year is Honeysuckle!!!......."While the 2010 color of the year, PANTONE 15-5519 Turquoise, served as an escape for many, Honeysuckle emboldens us to face everyday troubles with verve and vigor. A dynamic reddish pink, Honeysuckle is encouraging and uplifting. It elevates our psyche beyond escape, instilling the confidence, courage and spirit to meet the exhaustive challenges that have become part of everyday life.
"Flirtatious Honeysuckle is a feel-good hue that brings a festive sense of playfulness to this season's palette. This vibrant pinkish-red for both apparel and cosmetics makes consumers feel alive, and is a perfect post-winter pick-me-up."
So there you have it!
Here are some stars spotted wearing this fun honeysuckle color.
I love this Pinky-Red.
Other colors that will play a big part for spring is coral, pale pinks and light blues.
Hope you liked the Golden Globes Sorellas Fashion Wrap up! What do you think? We would love to hear your comments. What was your best and worst dressed????? Please feel free to disagree with me :-)