So we had been looking forward to this trip for so long. We were literally counting down days and "sleeps", as my nephew calls them. For those that are first timers on our blog site, let me explain what our Vegas trip entails. Every year Vegas has bi-annual clothing/fashion conventions called MAGIC. One in Spring and one in the Fall. It truly is Magic! This is where we go to get the latest trends and fashions. We also get a glimpse of whats on the runways and getting ready to hit mainstream. We get to meet hundreds of clothing vendors, see their product and make orders. I would have to say that that is the best part! We kind of went crazy when it came to ordering. We found some really great lines and trends to bring to the Gila Valley. Can not wait for all of it to come in.
So to start our trip off we head to Phoenix so we can catch our flight. Anyone been to Trader Joes? It has become almost a tradition in our family to stop there every time we go to Phoenix. It is the best place ever. They sell lots of organic and natural foods to eat and lots of different kinds of goodies. One of my favorites is their seaweed. Yup seaweed. Sounds gross, but it is oh so good. You have to go there and check it out. Love that most everything there is pretty healthy. Well this seaweed is something that I absolutely love. I took it on the plane with me all the way to Las Vegas. Sadly as I opened the package they spilt all over the hotel floor. So I started to salvage the ones that were not touching the ground and were on top. That should tell you how much I love this stuff.
On our way to MAGIC!
MAGIC was Magic. Really. I love the rush of all the people as you first get there. People and fashion everywhere. Some of the clothing booths are amazing! One of our favorites was Jessica Simpsons booth. Duh of course. It was glamorous. I remember when we went to MAGIC for the first time and we wanted to go in her booth so bad. But it was by appointment only. So this year we feel pretty legit to be able to have an appointment and get in. We are practically celebrities. Love the new line of denim that is coming in. We got some really awesome styles for Fall/Winter and Spring/Summer.
Us at the receptionist desk trying out her new fragrance. It is called Fancy You.
Us with Jessica. We are on a first name basis.
Some of the displays inside her booth.
Waiting in the lounge for our appointment.
This booth was huge. Probably one of the biggest.
Here we are at a different vendor making an order and bartering with our Rep Simon (you know like "Simon Says".....except nobody listens). I think we were pushing his buttons to much because he turned to Rachel and said..." I feel bad for your husband". He was a good sport. He would always let us have our way and say "If it makes you happy. I want you to be happy". He was a hoot. Good ole Simon Says.
We will be sporting these awesome pants. I love these and have been watching this style since it hit the runways. It's becoming more mainstream now and we are bringing them to our store. We are seeing more and more of this Amelia Earhart look. She was a female aviation pioneer. The first female in fact to fly solo across the Atlantic Ocean She also had her own clothing line. It was fashioned after well tailored menswear, but with a more feminine fit. In 1934, Amelia created a line of fashions known as "Amelia Earhart Fashions." The line was sold at Macy's in New York. Vogue even advertised her on a two page spread. See a pic of her below. She often would wear pants, a silk shirt and a silk scarf when she would fly.
So the basic look of the pants is tighter at the bottom with some volume at the top. Usually with pleating.
Amelia Earhart Similar look on the runway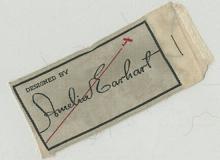 Amelia Earhart's Fashion Label. See the little red airplane taking off behind her signature?
Even Felix the cat was there. Many vendors will think of creative ways to get peoples attention to come look at their booth.
Here is us in front of the huge MAGIC sign.
Junie is looking gorgeous and making sure we are doing our jobs. Lucky girl! At only 6 weeks old, Junie was a great buyer for Sorellas.
While we were there we took as many seminars as we could. It was awesome. I love the fashion education they give us straight from the fashion experts. We even got to here from Megan Johnson! She was literally 15 feet away. I got a quick snap shot of her. She is the one holding the microphone. Here is just a little bit about her......she started off in NYC and opened her own designers boutique. From there she has become widely known. Joe Zee (Elle's director) noted that she has impeccable taste. She was a former Senior buyer for ideeli.com and several publication such as Vogue, Teen Vogue and Lucky have featured her style and buying expertise in their pages.
Heres What's in Style:
First of all.... If you haven't purchased anything with a tribal print on it, do it! It is huge right now. I can not tell you how many people we saw wearing tribal print at magic. Now this tribal print is more of an Aztec indian inspired tribal print. Not the African inspired print we have seen in the past. Those of you that live in AZ will know exactly what it looks like. I am loving it. Not only did we see it in the clothing, but we saw that same inspiration in swimwear and jewelry as well. So you might have thought we were crazy at first when we started ordering tribal prints in our store, but now we are bringing it straight from the fashion guroos. Yes... tribal is legit. See the pic below? This was a booth at MAGIC. We tried to get pics of this booth at least 3 times, but they wouldn't let us. They were afraid other vendors with booths at MAGIC would try to copy their display and textiles. Even though we weren't vendors they still wouldn't let us take a pic. So we decided that even if we got arrested, we had to get a pic. So the last day Rachel and I casually walk over and both try to take a pic..... again. I had to snap it fast. See the girl in the bottom left corner. She is making Rachel delete her pic on her phone and stood there till it was gone. I just ran away, literally.... and left her to get in trouble. See what we do for our Sorellas fans! Good thing MAGIC is over and they don't have to worry about it anymore. It was a perfect display of the new tribal trend emerging. Here are just some of the many tribal prints we saw at MAGIC.
Some gal we stopped to take her pic :)
Maxi Skirts! So you all love your maxi dresses right? Well Maxi skirts are just as huge in the fashion world. I love the look of the high waist-ed long maxi skirt. It gives that bohemian/70's sheik look to it. (70's is also very huge right now). When looking for a maxi skirt, make sure it is a fluid fabric so it has more movement. Like a chiffon, or jersey that will move with you. My personal favorite is a pleated chiffon maxi skirt. We saw lots of these at MAGIC and can not wait for ours to come in. Stay away from heavier fabric like wool or woven cotton that can make it look to heavy or frumpy in a longer skirt. Now if you are tall, this is a great look for you. The longer the better. even if it is almost sweeps the ground. Pair it with a some flat sandals for that bohemian look. Now if you are shorter, the long maxi might be a little overwhelming on your body. SOOOO.... no worries just find a maxi that hits about 6 inches above the ankle. This will still give you the maxi look without having to compromise your fashion. :) You can still wear a flat sandal, or if you want some height add a platform wedge. Now that you have your maxi skirt.....what do I put with it? Really you can put anything! For more of a bohemian look you can put a flowy tunic with it or a oversized T-shirt. But if you want to go more modern, you can go with a more tailored top. Both are trendy. The best thing is, is that you don't have to be going to a dressy event to wear this. It can be dressed up or down. I would recommend wearing it as an everyday skirt, just like the maxi dresses.
Another girl we tracked down. I like how she went with a more dressy approach with the maxi yet still it was in a flowing fabric that moved with her.
Kate Bosworth. Doesn't she look gorgeous? This skirt is amazing.
See how it goes all the way to the ground?
we made sure to purchase purses with the same idea as the Kelly bag.
See all of their purses? They are all simple. They may not be the same shape as the Kelly bag but they have the same concept.... no bling, minimal embellishment, fabulous.
Tulip affect on skirts. This is probably my most favorite thing right now. Long or short..... it is in. I love the look of having the skirt shorter in front and longer in the back. I am more so in love with the more dramatic tail look. It gives almost a flowing train affect behind you. It is very fashion forward, yet very feminine. Take a look at some of the different lengths.
Here are the tail skirts I mentioned. These were everywhere at MAGIC!
Missoni! Have you seen Targets website???? They have gone crazy with it! Not only are we seeing this pattern in clothing and fashion, we are seeing it in home decor as well. Definitely going to add this vibrant pattern into my wardrobe. Very FUN!
Lady Like Look: Racy, revealing clothes are being replaced by elegance and sophistication. Ladies.... embrace this trend! It is so feminine and classy. As the hemline continues to drop, we are loving this trend more and more. Mid-calf skirts fit right into this category. You see them coming more frequently down the runways. These skirts give you that coverage you want, yet it is still trendy. Take a look!